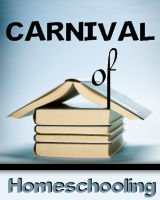 Everyone does things a little bit different in the homeschool world. There is no 'one size fits all' for homeschoolers. If there was we probably wouldn't be homeschooling!
So I am going to tell you what I do and then try to give you options and forms from other sites that will enable you to enhance what you are doing or to figure out what you want to do!
In the past I customized and made my own planner each year. I started off using the planner found at Tanglewood education. It is an excellent planner for folks to use especially if you want to pursue a Charlotte Mason or Classical style eduction. Previously each year I customize a planner to our school year. I inlcude the following:


calendar


lesson planner page


curriculum planner


6 week summaries


grade sheets (only a some classes are graded)


field trip log
Here is a list of sites that you can find ideas/useable forms to create your own curriculum planner:

I then go and get it bound at the Office Max. This year we are going to use Homeschool Tracker so it will free up my planning time for preparation and grading. This is a computerized program that provides a detailed lesson plan along with assignment sheets for the students plus a myriad of other reports. You can try out Homeschool Tracker Basic for free. There are loads of ways to get this done my advice is to spend some time and figure out what works best for you and your family!
Happy Schooling!
Rooster Hill